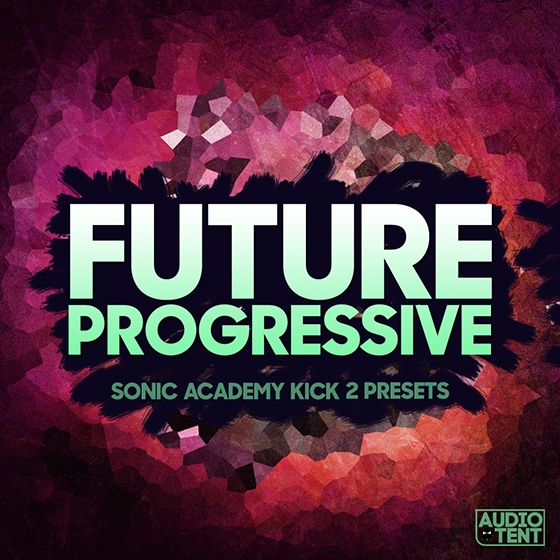 Audiotent Future Progressive Sonic Academy Kick 2 Presets
Size 17 Mb 
Audiotent – Future Progressive Presets for Sonic Academy Kick 2.
Your perfect low end awaits.
Chest thumping. Tuned kicks.
Load up the our Kick 2 Presets for instant results. Dial in the tuning of the preset to perfectly fit your track. No more flabby out of tune kicks.
To achieve the perfect kick drums we processed with various stages distortion. Sculped with EQ. And carefully shaped each and every envelope to perfection.
Inside Future Progressive you get access to 50 Sonic Academy Kick 2 Presets. 50 carefully designed kick click samples. And 50 kick drums in .wav format. Mix and match the presets to different click samples for even more choice and expand your library.
Audiotent GUI Skins.
Easily change the colour of Kick 2.
We've designed 6 colourful skins to suit your mood. Sparking creativity and productivity.
Requirements.
To take full advantage of the presets. Please ensure you have the following plugin installed.
Sonic Academy Kick 2 Version 1.0 or Higher
Included inside the pack:
• 50x Kick Drum Wav Files
• 50x Kick Drum Click Samples
• 50x Kick Drum Presets
• 6x Custom GUI Skins
Additional Genre(s)
• Electro House
• House
• Presets / Patches
• Techno
• Deep House
Demo Preview:[adinserter block="1″]
[soundcloud url="https://api.soundcloud.com/tracks/264148256″ params="color=ff5500&auto_play=false&hide_related=false&show_comments=true&show_user=true&show_reposts=false" width="100%" height="166″ iframe="true" /][soundcloud url="https://api.soundcloud.com/tracks/264148347″ params="color=ff5500&auto_play=false&hide_related=false&show_comments=true&show_user=true&show_reposts=false" width="100%" height="166″ iframe="true" /][soundcloud url="https://api.soundcloud.com/tracks/264148182″ params="color=ff5500&auto_play=false&hide_related=false&show_comments=true&show_user=true&show_reposts=false" width="100%" height="166″ iframe="true" /]