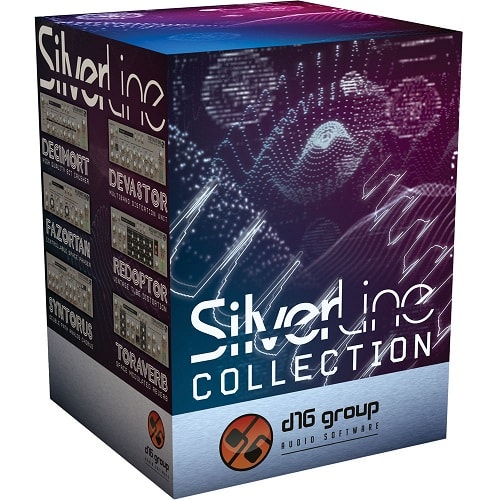 d16 Group SilverLine Collection 2019
Size 165 Mb
All appreciated by the public SilverLine effect plug-ins bundled
Antresol v1.1.4 – An iconic stomp box flanger resurrected with exquisite attention to sonic detail and so much more!.
Decimort v2.1.6 – Premium grade bit crusher with complex and advanced signal processing algorithms within Decimort simulate the behaviour of the whole sampling path which exists in every AD/DA converter.
Devastor v2.1.5 – Remarkable Multiband Distortion Unit. It is an enhanced version of the distortion unit from our famous Phoscyon synthesizer..
Fazortan v2.0.0 – Phaser created with the most advanced analog modelling techniques.
Frontier v1.0.0 – Free self-adaptive versalite limiter.
Godfazer is a combination of few modulation effects in single device; chorus, phasing, filtering, rotary speaker emulation and much more.
Redoptor v2.0.1 – Phaser created with the most advanced analog modelling techniques.
Repeater v1.1.5 – Vintage modelled delay.
Sigmund v1.1.2 – High quality flexible delay unit
Syntorus v1.4.0 – Chorus effecting unit with a double delay line. It's capable of emulating almost every classic unit available.
Tekturon is a tap-delay effect with 16 independent high quality delay lines, where the taps are arranged in a sequence of taps equally delayed from each other, whereby working with the plug-in strongly resembles using a step sequencer.
Toraverb v2.0.2 – Concept algorithm reverb. It allows the user to create practically ANY type of reverb.

Links