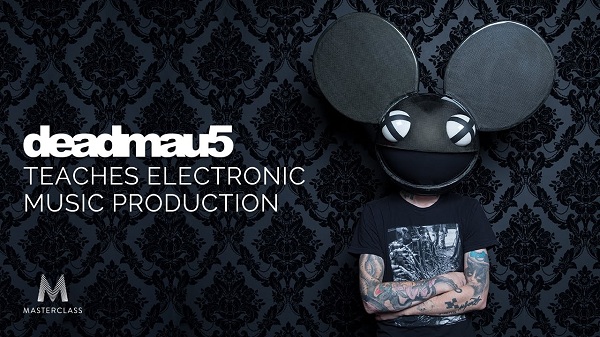 deadmau5 Teaches Electronic Music Production Course
5.2 GB
Before he was deadmau5, all Joel wanted for Christmas was old toasters to take apart. Now, in his MasterClass, watch him take his music apart. Joel teaches you how he approaches melodies, mixing and mastering to make unique sounds you can't find in a cookie cutter sample pack. You'll get not only his lessons, you'll learn how to create your own music without spending money on million dollar gear.
On Demand
100% Exclusive
Learn the techniques that took deadmau5 from bedroom producer to festival headliner.
23 VIDEO LESSONS
Watch, listen, and learn as deadmau5 teaches you how to mix, master and market your music.
CLASS WORKBOOK
A downloadable workbook accompanies your class with lesson recaps and supplemental materials.
In deadmau5's electronic music production course, you will learn from one of the most innovative electronic music producers working today. Laying out his approach to EDM production, deadmau5 will teach you how to build unique instrumental sounds, experiment with modular synths, and turn chord structures and melodies into full arrangements. Inviting you into his studio, Joel will walk you through plug-ins, give his take on the pros and cons of digital and analog synths, and provide insights on how to build a home studio without dropping millions on gear.
Starting with the basics of melodic structure, deadmau5 pivots into what makes him one of the most inventive electronic music producers working today. In his class, you'll watch how his tracks take shape in real time. After discussing how to structure electronic music tracks, Joel provides detailed lessons on mixing and mastering before launching into an in-depth breakdown of how he mastered his 2016 single, "Snowcone."
Designed to serve electronic music producers of all skill levels, deadmau5's MasterClass has lessons for you whether you're a professional producer, or working out of a bedroom studio. With 23 video lessons and a customized workbook tailored to each chapter, deadmau5's MasterClass will change how you produce electronic music. In this online class, deadmau5 teaches how to:
• Gather ideas for new tracks
• Develop melodic structures
• Create loops that resolve
• Tweak patches from scratch
• Innovate with plug-ins
• Layer kick drum samples
• Make a unique remix
• Mix and master a track
• Plan a DJ set
• Build your brand
• Navigate the music business