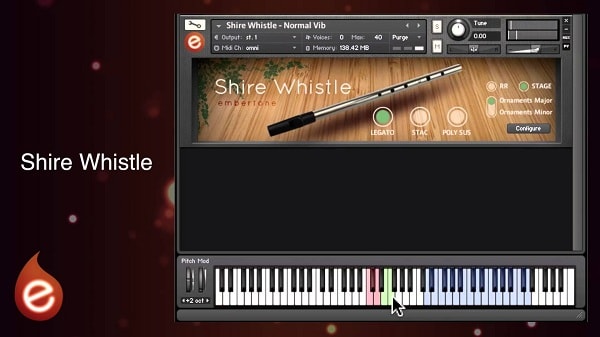 Embertone Shire Whistle KONTAKT
Size 292 Mb
Welcome to the Shire!
It's time for a musical jig, an excellent eve for some spirits and wine
so have a seat, put down your sword, and join us for a pint
We'll banter on about days of old,
while we share a smoke and tall tales are told
You'll hear about Barty, the fool of the town,
Blakeley and Barny, who will turn any frown
There will be mention, of course, our friend from the north
who came riding in on a stunning white horse.
And if you perk your ears up, you'll hear something quite blissful:
the sound of a beautifully-crafted SHIRE WHISTLE!
Technical Info
True legato programming + True Portamento's as well
Neighbor borrowing round robin option
Custom, genius Kontakt scripting by Andreas Lemke
4 NKI files
650 recorded samples
276 MB installed
Download from our web-server, nothing fancy (we're broke too, man!)
Sample resolution: 48 Khz / 24 bit stereo
Kontakt 4.2 (Full Retail) is 32/64-bit, MAC/PC compatible
Note: Native Instruments Kontakt version 4.2 or later full retail versions required..
Note: Free Kontakt Player will only work for 30 minutes with this product. Full version required to remove this restriction.
Kontakt 4 runs as a stand-alone application, VST® or Audio Units plug-in, RTAS® under Pro Tools 7/8 . Minimum: Mac OS X® 10.4 / 10.5, G5 1.8 GHz or Intel Core Duo 1.66 GHz, 1 GB RAM or Windows® XP (32 Bit) or Windows Vista® (32/64 Bit), Pentium® or Athlon XP 1.4 GHz, 1 GB RAM. 2 GB of RAM or more is highly recommended!