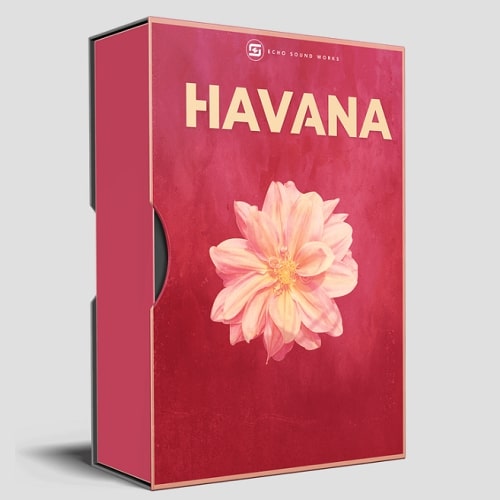 Echo Sound Works HAVANA + Bonuses
HAVANA – Latin, Reggaeton & Tropical Meets Future Bass, Trap, & Hip Hop
Echo Sound Works, the team behind top selling products like Ashes, Chainsmoking, Snake Lazers, CODA and so much more, is proud to share with you one of the most unique sample pack/soundsets we've ever made.
HAVANA is a one of a kind collection of sounds, presets, samples and more, that will help improve your productions by simply having access to these highly unique sounds. Sounding unique and different is more than half the battle with production.
Pushing Serum and Massive into uncharted territory, HAVANA is in inspired by the colorful and vibrant music of Latin America and the Caribbean. It pairs perfectly with more mainstream genres like Future Bass, Trap, Hip Hop, and Future Pop.
We spent 5 months creating all the content for Havana. It is our largest soundset to date and comes with 150 Serum presets and 85 presets for Massive as well as 420 drum samples and loops, construction kits, MIDI, and Latin guitar loops totaling 3.5 GB of content.
HAVANA is the genre fusing soundset for both Xfer Records Serum and NI Massive, blending Latin music with Future Bass, Trap, Future Pop, Tropical House, and Hip Hop. Latin music has exploded in 2018. Thanks to global hits like Despacito and Havana by Camila Cabello, Latin music is finding it's way into more and more music. That's why we decided to make HAVANA.
We pushed each synth to it's limits to bring you the most diverse set of presets. You will find marimbas, bells, keys, steel pans, brass sounds, guitars and other hybrid instrument sounds in Serum. There are also more conventional sounds perfect for any modern genre of electronic music and Hip Hop like huge 808's, drop ready leads and of course chill pads.
If you haven't used Massive in a while, dust it off and pull it up. These sounds are unlike anything you've heard in Massive.
HAVANA truly does blur lines between genres and can be used in Future Bass, Trap, Tropical House, House, Future House, Moombahton, Pop, Hip Hop and more. It's not just for songs that inspired by Latin music.
We don't usually shout out our drum samples in product descriptions, but HAVANA is a whole other beast. We sampled so many unique, Latin percussion instruments and mixed them to be song ready. You get hundreds of incredible percussion sounds like Timbales, Congas, Guiros, Maracas, to name a few. The percussion in this pack should and could be it's own product, but it made perfect sense to pair these samples with the presets in HAVANA.
BONUS CONTENT
365 DRUM SAMPLES | 55 DRUM LOOPS
Get access to 365 high quality drum samples that will work with many different genres. Samples for Future Bass, Trap, Moombahton, Tropical House, Pop, and Hip Hop are all included in Havana.
The percussion in Havana could be its own pack. We sampled a ton of hard to find Latin and Tropical percussion instruments like congas, timbales, latin shakers, bongos and so much more.
There are also 55 drum loops that were created and played with authentic Latin and Tropical stylings.
Foley [60]
Hats &Cymbals [30]
Claps & Snaps [25]
Kicks [56]
Snares [61]
Percussion [121]
Toms [15]
Drum Loops [55]
7 CONSTRUCTION KITS
Havana includes 5 professional song starters and construction kits. Stemmed out in 24 bit and 44.1kHz, these kits are ready to be used in any DAW.
All 7 kits are royalty free and can be used in your own music. These are invaluable tools for not only inspiration, but also education. You will be able to hear and see exactly how the demo songs were created. We stem out each element of the mix, MIDI is always included and each file is named with the Serum or Massive preset used to make the chords, bass line, or melody. That way you have complete creative control.
70 MIDI FILES
Some producers prefer MIDI over a WAV construction kit. We love both, but having the MIDI does give you more creative freedom.
Drag and drop any of the included MIDI files into your DAW of choice to kickstart your next track. Quickly edit and tweak so it perfectly fits with your song.
​These are also great learning tools.
Each MIDI file is named with the preset that was used to create it.
Launch Exclusive Bonuses
As an added bonus, we've included two free products, ESW Latin Pop Guitars and ESW Core Wavetables.
HAVANA BONUS #1 | ESW LATIN GUITARS
The ESW Latin Pop Guitars is a collection of 10 Latin inspired guitar kits as well as bonus loops. Over 100 loops and riffs are at your disposal. You can hear some of these in the demo for HAVANA.
HAVANA BONUS #2 | NOHO PIANO
HAVANA BONUS #3 | ESW CORE WAVETABLES
Sometimes upright pianos are just what a mix or song needs.
We sampled a really unique upright piano in North Hollywood that has velvet hammers instead of felt. It's a great piano for Pop, EDM, Hip Hop and of course, layering. Comes with 3 Kontakt instrument patches.
Comes with a custom script and 3 FX knobs as well as controls for ADSR.
FULL VERSION OF KONTAKT 5.7 OR HIGHER REQUIRED
HAVANA BONUS #3 | ESW CORE WAVETABLES
We made a huge collection of wavetables called Core Tables. It's loaded with 310 wavetables that can be used with any wavetable synth that allows for custom import.
We used the Core Tables in Havana to give each sound a really unique character that no other Serum soundset will have simply because we are using different wavetables.
Echo Sound Works HAVANA Pack Content:
5.05 GB OF CONTENT – You read that right. Havana comes with a huge amount of content to inspire your creativity
235 TOTAL PRESETS – 150 Presets for Serum & 85 Presets for Massive
420 DRUM SAMPLES – Hundreds of drum samples that are dripping with character. Latin and Tropical classics as well as hybrid fusion sounds make for a unique modern vibe
INCREDIBLE BONUSES – Havana comes with a bunch of bonus content like drum loops, construction kits, MIDI, and a whole pack of Latin guitars
Software Requirements:
Serum 1.215 | Massive 1.4
Demo Preview: