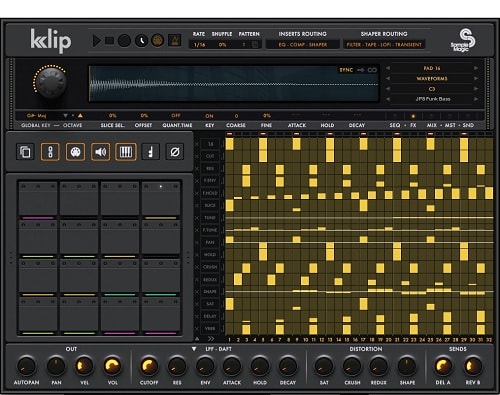 Klip v1.0.5 KONTAKT
Size 1.31 Gb
Klip is a powerful instrument and drum machine that pushes the threshold of electronic music production, utilising an expansive parameter editing matrix and comprehensive mixer functionality.
Please note: Klip requires an install of the FREE Kontakt Player 5.7.0
Mash loops, re-mould and merge beats, mangle rhythms, programme in a completely unique fashion – all in real time – tempo, key and beat synced to your host DAW.
Splice loop segments, add convolution reverb, delay, bit crusher, filters and tape warmth emulation. Mix in Klip's 8 channel mixer with EQ, compression, distortion, transient designers, buss limiter and much more.
Spanning 1000s of samples across a wide variety of genres, styles and tempos – dive into a vast archive of Sample Magic's catalogue with years of sound design expertise rolled into one instrument.
Use MIDI or mouse to record, programme, play and tweak pads, controls, CC parameters and synth parts in real time.
Complement your beats with carefully collated and expertly recorded analogue synthesiser waveforms included as part of Klip's powerful sound library.
Copy sequences at a click of a mouse, with up to 8 patterns per preset and MIDI note export.
Full Native Instruments Komplete Kontrol and Maschine integration giving numerous workflow tweaks and custom mapped controls.
INVENTIVE PARAMETER SEQUENCER
32-step sequencer with individual preset lanes for 16 parameters – velocity, filter cutoff, resonance, envelope, decay, tuning, fine-tuning, pan, loop slice, bit crush, bit degrader, shape, saturation, delay and reverb. Precision automation control (with up to 127 levels) over each lane and 70 parameter presets for speedy editing. Record all parameters in real time via keyboard, controller or mouse.
EXTENSIVE SOUND AND PRESET LIBRARY
Spanning 40+ Sample Magic libraries across a decade of cutting-edge sound design, dive into a treasure trove of upfront techno, house and chillwave loops, 1000+ drum hits, vocals, chord stabs, music loops, keys, analogue synth waveforms and 30+ classic drum machines. Instantly jam with over 150 presets from Sample Magic's leading programmers, with a palette of genre specific kits and templates to instantly inspire.
FEATURE PACKED DRUM MACHINE
drum_machine
Tweak loop slice points, transpose, detune, shift key, adjust tempo, shuffle and grid rate all in time with your DAW, utilising advanced timestretch algorithms for minimal artefacts and fully unique sound design freedom.
A feature rich drum machine when used in 'stand-alone' mode, operate 16 pads with individual FX sends, tuning, distortion, filters, panning, envelopes, choke groups, pad randomise, copy/paste, advanced note sequencer, individual outs and much more..
8-CHANNEL MIXER AND CONVOLUTION REVERB ENGINE
8_channel_mixer
Group sounds into Klip's extensive 8 channel mixer with EQ, compression, shaper, transient design, filter, saturater, dual FX sends and much more on each channel. Colour code channels for easy acces. Further route each buss within your DAW. Add expertly recorded reverbs from some of the world's finest studio spaces and rarest hardware units.
AND MUCH MORE…
Multi-FX arsenal including distortion, stereo spread, 20+ filter types and more, auto-pan functionality, full MIDI cc spec and implementation, pad and sound randomisation, global transpose, variable sync rates, FX re-routing, ADSR envelopes, mixer customisation, multi-out routing, expansion packs and more!