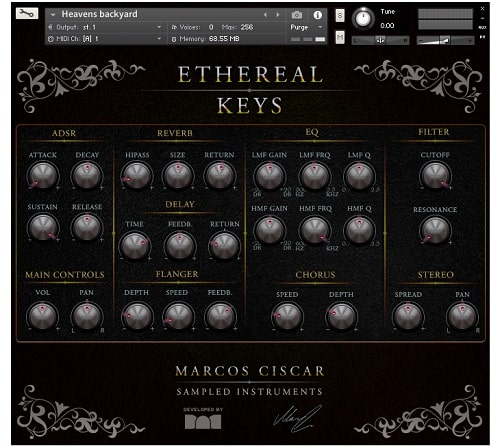 Marcos Ciscar Ethereal Keys KONTAKT
Size 979 Mb
A Collection of Deep Ambient Keys for Kontakt
While sampling the church organ in the town church I made this organ stop combination that had an ethereal quality.
I put all the other sounds aside for a while due to this vision: What about combining even more sound sources together? Like having a giant church organ with even more sound opportunities.
For some reason, while editing sounds I kept watching these pictures of arctic norwegian churches and spectacular mountains on Baffin Island. What was first maybe a more spacey sound idea tilted to northern lights, crystal clear lakes, sun reflections on icy landscapes etc. Now the ambience was set.
So the concept of Ethereal Keys is you having a giant keyboard creation with interconnected sound sources such as church organ, tonewheel organ, electric organ, harmonium, analog synthesizers, solo vocalist & choir, electric guitars and various wind instruments plus mark tree.
To match the arctic theme the sound ideal is not "authentic" by itself but rather more "frozen" in character. A bit like having a synth from the 90's but with much larger memory capacity and better PCM samples. The human voices, for example are not intended to sound "natural" but more like aural snapshots found under the arctic ice.
Please note: Some of the presets use the modulation wheel to gain access to more layers of sound and parameters. Always remember to check it out. The key range is also different across the presets. As the presets contain various layers edited individually, please remember that altering the knobs in the GUI will affect the sound as a whole.
The advanced Kontakt 5 user can of course edit the layers separately at will. Welcome to the musical permafrost!
Please note: the FULL version of Kontakt 5.8.1 is required (Not for Kontakt Player)
RECORDINGS
The church organ was recorded with 5 microphones at 24 bit 96KHz to obtain the most realistic samples with natural reverb. At the processing stage noise was reduced and a tape simulator plugin was added.
The harmonium was recorded with two microphones at 24 bit 44,1KHz.
The synthesizers were line recorded in stereo or mono at 24 bit 44,1 KHz except for the Matrix 12 that was recorded in 16 bit 44,1KHz through an old, digital mixer with a specific, crisp sound. The Sub Phatty was recorded at 96KHz and dithered to 44,1 KHz.
The L-100 organ was recorded with two microphones pointing at the rotating speaker of the cabinet at 24-bit, 44,1 KHz.
The B20CR was line recorded at 24-bit, 44,1 KHz.
DevaLaya was recorded in a vocal booth at 24-bit, 44,1 KHz.
The Lesjöfors Choir was recorded in a church with four microphones at 24-bit, 44,1 KHz.
The electric guitars were line recorded at 24-bit, 44,1 KHz.
The wind instruments etc were recorded in a vocal booth and studio room at 24-bit, 44,1 KHz.
Links