Native Instruments Straylight 1.5 KONTAKT
Native Instruments Straylight 1.5 KONTAKT
Size 2.39 Gb
STRAYLIGHT 1.5 –  GRANULAR-BASED SOUND DESIGN
Craft unique cinematic soundscapes, transitions, and ambient tones in real-time. Built for sound designers and film, TV, and game composers, STRAYLIGHT is ideal for everything from post-apocalyptic sci-fi to gritty thrillers. It combines specialized grain and sample playback modules with carefully captured sound sources, effects, and a powerful performance-based X-Y modulation matrix, allowing inspirational dynamic performance and sound design, direct to picture.
Both the granular and sample modules offer deep editing possibilities for personalizing the source sounds and intelligent randomization for generating new sounds quickly.
Use tempo-synced grain cursor speeds for creating perfectly timed transitions and risers.
Select up to four different effect types each for the grain and sample layers, plus four additional master effects, and two send effects – and you can assign parameters from all those effects to macros or the X-Y matrix.
Tag based browsing for both presets and sound sources makes it easy to find what you're looking for. Tags even apply when randomizing the modules.
Easily assign MIDI CC to the XY matrix, and use it in conjunction with master effects to ride intensity, direct to picture.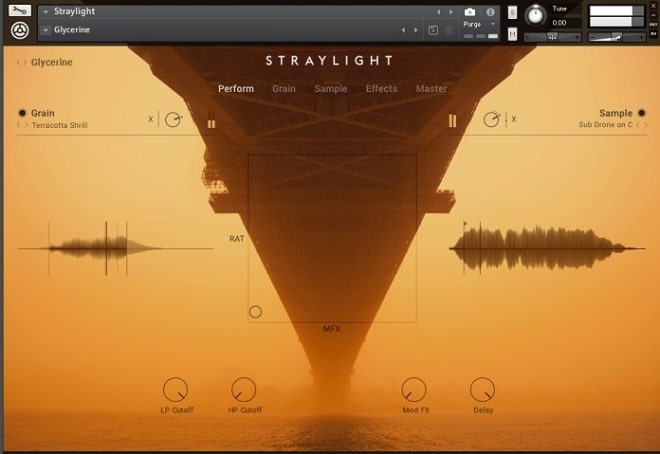 SOUND SOURCES
STRAYLIGHT 1.5 delivers screen-ready cinematic sound sources without the need for additional processing – letting you concentrate on creativity, even when time is tight. We spent a lot of time testing sources and playing techniques, looking for the best and most interesting sounds for the granular engine – such as rubbing a rubber ball on glass. The result is over 360 unique matched sound sources for the granular and sample modules, with over 300 presets.
THE GRANULAR ENGINE
STRAYLIGHT 1.5 has a bespoke granular engine that places the source audio into a powerful and specialized – yet easy-to-use – interface. Harness lush, organic timbres that can defy time and pitch, yet still retain the pristine character of the source sounds (strings, glass, stone, membranes, and more), and sonically evolve over time (risers and transitions can adapt automatically to project tempo).
Small sounds can be vastly magnified in size and scope without sacrificing their sound quality or character. The granular engine is then paired with a layer from the sample module, offering the same level of editing and modulation.
PERFORM REAL-TIME MODULATION
STRAYLIGHT's modulation and effects sections ensure a fast, creative workflow. The precise X-Y control enables expressive direct-to-picture performance and detailed control over intensity and timing. Apply and modulate up to 14 different effects – taken from nine different categories: Filters, dynamics, EQs, gaters, drivers, modulation, delays, utilities, and reverbs. STRAYLIGHT 1.5 even includes specially captured reverb impulse responses, selected to complement its audio content and granular engine.
CREATED WITH FRANK ELTING AND PAUL HASLINGER
STRAYLIGHT 1.5 was built in collaboration with Frank Elting and The most human colors, a boutique instrument and sound design agency. The instrument was also developed in consultation with composer Paul Haslinger (Underworld, Minority Report, Fear The Walking Dead, Rainbow Six: Siege).
What's New in STRAYLIGHT 1.5
STRAYLIGHT 1.5 contains the following new features and improvements:
•You can now import your own samples by dragging and dropping them on to the waveform displays.
•Added high-quality modulation effects using Choral, Flair and Phasis algorithms available in all effect slots.
•Added 'Grain Rate Interval sync' functionality which allows you to lock the grain generation to the tempo of your DAW.
•Added 68 additional presets using the new features of version 1.5 for a total number of 452
•Improved the handling of main page waveforms range locators is now easier when the cursor reaches the edges
KONTAKT version 6.2 and higher is required.
Demo Preview: