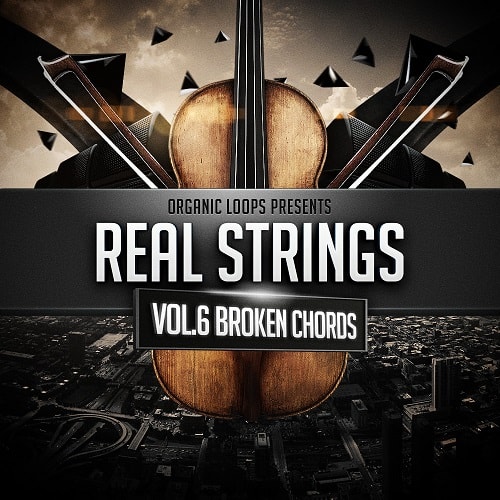 Real Strings Vol 6 – Broken Chords Multiformat
Size 1.46 Gb
Organic Loops is proud to release Broken Chords from Real Strings, a loops library of violins, performing the distinctive texture of rolling arpeggios. These loops will give character and movement to all styles of music.
There are 94 chord patterns, recorded across 4 bars, at 100 and 120 bpm. The loops cover major, minor and open 5th chords, and unusual patterns like augmented, diminished and sus chords. The pack also includes sustained notes with rising and falling dynamics.
The pack really comes to life for producers who own Kontakt 5 as they are treated to a fully scripted performance instrument that features a customisable preset of up to 8 Broken (arpeggiated) chord patterns, a two octave spread of single notes to compliment the arpeggios and a reverb module to add air to the sounds and loops. Real Strings – Broken Chords features clever key switching allowing producers to change between the 8 loaded sequences on the fly with the ability to also change the root key of each loop. Tempo changes are not a problem as the instrument will use Kontakt 5's ability to follow your DAWs tempo and here's a sneak peak:
These authentic string samples were recorded in Pete's studio where he regularly records real strings for major labels and media companies.
Expect to find over 600MB of 24Bit loops recorded at 100 and 120 beats per minute. All loops are supplied as 5 bar files, to include the tail. The Kontakt 5 instrument is also included in this download as are the scores in MIDI, PDF and Sibelus format for those who want to dig even deeper.
In Detail expect to find 980MB of content including 214 Arpeggiated Loops, 1 Kontakt 5 Scripted Instrument Preset and 214 Rex2 Files. Apple loop version with the Kontakt 5 instrument also available to purchase separately.
Credits from the realstrings studio include artists and producers Future Cut, Rhymefest, Zed Bias, Ken Lewis, Judas Priest, The Christians, Candi Staton, Heather Small, Mr Scruff, Olly Murs, Christina Aguilera, Kanye West, Lower Than Atlantis, Ella Henderson, Eliza Doolittle and Foxes, and media music from Hollywood to Bollywood. Loops from the Realstrings series have been featured on tracks by many artists, including Skrillex and Rudimental.
Real Strings Vol 6 – Broken Chords Details:
• 980 MB (this includes duplicated content in the Kontakt instrument)
• 214 Arpeggiated Loops
• 1 Kontakt5 Scripted Instrument Preset
• 214 REX2 Files
Please Note:
Kontakt 5 required for maximum benefits.
Demo Preview: