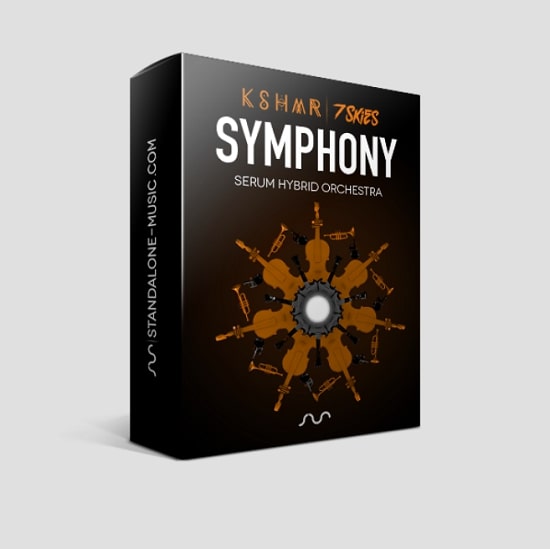 Standalone-Music Symphony – Serum Hybrid Orchestra By KSHMR & 7 SKIES + Orchestral Loops + Ableton Live Project [FULL PACK]
KSHMR & 7 Skies – SYMPHONY Serum Hybrid Orchestra
Finally, a Serum soundbank that is truly different!
Soundsets often provide you with gritty dubstep sounds, supersaws, and FM basses. But libraries with real instruments are often expensive and take lots of space — until now.
An entirely new perception of acoustic sound:
We are not claiming that SYMPHONY will replace your real instruments libraries. With SYMPHONY our goal was to create a soundbank that would inspire a new world of sonic possibilities.
We believe we did it.
Meet SYMPHONY:
SYMPHONY enters uncharted territory for Serum. We've recorded and collected real instruments, synthesizing them into wavetables. The results are incredible.
The benefits of using wave tables and not "Noise" samples are many:
– No stretching of samples — the length of sounds is consistent at every key.
– Adjustable wavetable scan speed lets you shape the sound — impossible to do with a sampler.
– The sounds infinitely sustainable — you can hold any note for any amount of time.
Vast and diverse selection
You'll find Basses, Guitars, Brass, Strings, Flutes, Mallets, and even ethnic instruments like Sitar, Koto, Duduk, Balalaika and more. The result is a massive 160+ in total.
We care about details :
To realize the true character of these instruments, we took advantage of all oscillators, filters, and FXs. Using the Macros, Mod Wheel and Velocity will give you the inflections and expression native to each instrument.
Join the revolution
In addition to 160+ presets, SYMPHONY also includes 50 Wavetables to incorporate in your own Serum patches. You can add strings to your supersaw or layer your bass with pizzicato — all within Serum.
SYMPHONY truly is an epic collection — and may well change the meaning of sound design.
SYMPHONY Includes:
160 Presets
50+ Wavetables
25 Orchestral Loops
Ableton Live Project by KSHMR
Along with the 160+ Serum Orchestra Presets and 50 Wavetables, SYMPHONY includes an Ableton Live Project made by KSHMR himself (Ableton Live 9 Required) that you can reverse engineer, learn and take a pick at the techniques used by one of the best producer at the moment.
Last but not least we are also including 25 Orchestral Drum Loops created specifically to fit in dance music while still maintaining the original acoustic and cinematic impact.
Requirements:
In order to use this soundset you must have SERUM 1.113
Demo Preview: