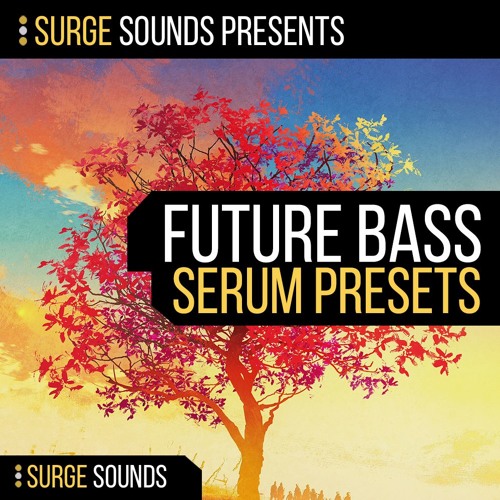 Surge Sounds Future Bass
Size 152 Mb 
For this pack, we set out to revolutionize Future Bass Xfer Serum presets.
We pushed the boundaries and crafted sounds no one has ever heard before.
This cutting edge collection is packed with 370 modern presets and 93 MIDI files from
the demo that will draw out mind blowing and unique ideas.
Our goal is to support you to push the creative boundaries in the Future Bass scene.
We also added a ton of inspiring bonus samples and LFO sequences.
Each sound was inspired by phenomenal artists like FLUME, San Holo, Wave Racer, MYRNE,
Marshmello, Pegboard Nerds, The Chainsmokers, ILLENIUM and
many other innovative Future Bass artists to date.
This collection contains 300 top notch presets for Xfer Serum that you just cannot wait to
start producing with. As a bonus we also added 70 innovative NI Massive presets.
Bonus items also include 216 expertly designed drum samples.
We designed 32 infectious LFO sequences so now all you need is to
play your favorite chords and all the rhythms are programed by us.
This is brand new and composing with these has never been easier.
We are the 1st to design presets for Serum in this way.
We're also adding a bonus pack 'Future Bass Sequences' which includes 35 hand-crafted
LFO sequences plus a PDF describing how you can use them in Serum.
These are crazy powerful!
If you're searching for the #1 Future Bass for Serum pack, this is it!
So grab this pack and start producing mind blowing tunes today!
Xfer Serum
302 Xfer Serum Presets
66 Synths + 2 Bonus Presets
83 Leads
46 Basses
73 Plucks
32 Sequences
4 Macros on every preset
MIDI AND WAV
93 MIDIs and 45 WAVs from the Demo
Adventure – 23 MIDI
Eclipse – 15 MIDI
Firebird – 21 MIDI + Kick, Snare and
Hat Samples + Percussion Loop
Supernova – 12 MIDI
Thriller – 12 MIDI + 2 Vox Loops
Utopia – 10 MIDI
————————
100% Royalty-Free
BONUS
Bonus pack 'Future Bass Sequences'
35 hand-crafted LFO Sequences + Setup Guide PDF
70 NI Massive Presets
21 Leads
18 Plucks
19 Synths
12 Basses
8 Macros on every preset
216 Drum Samples
73 Snares
32 Closed Hats
57 Claps
54 Kicks
Demo Preview:[adinserter block="1″]
[soundcloud url="https://api.soundcloud.com/tracks/321708261″ params="color=ff5500&auto_play=false&hide_related=false&show_comments=true&show_user=true&show_reposts=false" width="100%" height="166″ iframe="true" /]