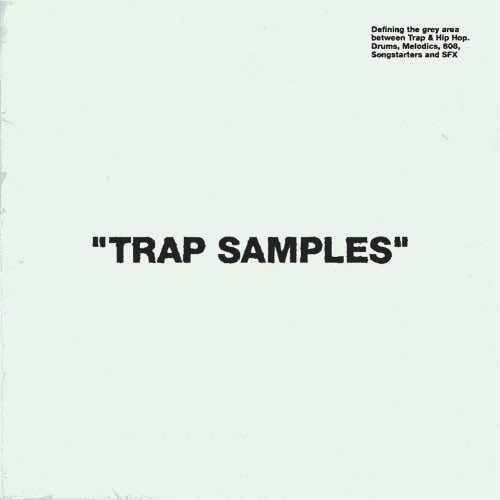 Trap Samples WAV
Who needs Trap Samples? You can never have enough.
We are proud to present our simply named 'Trap Samples', no filler, a streamlined library that packs a punch with the best Trap and Hip Hop tools we have offered.
An absolute must have for any instrumental beat makers looking to further their productions.
The foundation of Trap Samples is its comprehensive collection of music loops.
These melodic and harmonic samples are primed and ready to be thrown into your sequencer, or to be chopped and diced up to give your own twist.
If you're looking for a quick sample to get your beat moving, check out the plethora of song starters available, a series of loops with numerous layers and elements all mixed and intertwined, allowing you to progress quickly and get ideas down faster.
Alternatively, dive into the melody, chord, and bass folders, where you can find the song starter loops broken down into their individual elements, allowing for a more intricate approach where you can dissect and interchange various parts with your own musical ideas.
Not forgetting the vital dedicated 808 folder, with a number of individual tuned 808 hits that are ready to be turned into your rumbling bass line.
No Trap & Hip Hop library would be complete without a solid selection of drums.
Ready to thump their way through any mix, these drum loops are an essential beat making tool.
Whether you use them to spark an idea at the beginning of your session, or combine them with some of your own melodics, these drum loops will keep your creativity flowing.
If you are the type of producer who prefers working from the ground up, head over to the drum hits folder.
Comprised of crispy hi-hats, thudding kicks, snappy snares, and unique percussion, the drum hits folder has all the goods you need to build your dream trap drum kit.
To provide that extra detail and some unique character to your beat and help flow between sections, look no further than the selection of SFX on offer.
The risers build and release tension, whilst the snare rolls are perfect for an end of phrase motif, not forgetting the vocal samples that give your beat its own identity.
'Trap Samples' is an important addition to any Hip Hop or Trap producers sample library that is serious about lifting their beats to the next level.
Trap Samples pack includes:
• 95 Drum hits
• 33 Drum loops
• 19 Bass loops
• 22 Chord loops
• 45 Melodic loops
• 16 Song Starters
• 10 808 hits
• 26 SFX
Links
Demo Preview: