Versilian Studios Chamber Orchestra v2.6 Pro Edition KONTAKT

Versilian Studios Chamber Orchestra v2.6 Pro Edition KONTAKT
Size:15.4 GB
An entire orchestra and then some at your fingertips- over 90 individual major instruments, plus dozens of small percussion, VSCO 2: Professional Edition is a unique sample library capable of creating nuanced and realistic mock-ups while maintaining a small footprint.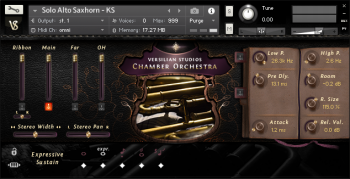 Update 2.5 includes 2.5 GB of new content including 28 ensemble patches, sSATB baroque recorders, and brass sections. Update 2.6 brings VSCO 2 Pro to the world of Kontakt Player and your libraries tab, along with 150 new snapshots- powerful instrument presets to find new inspirational sounds!
430 NKI for Kontakt Player or full Kontakt 5.6+
Over 23,000 individual samples/61,800 audio files.
90+ unique instruments, from oboes to ophicleide.
500+ articulations total.
Multiple mic positions on most instruments.
Say goodbye to "machine gun drums" with 4x RR on short articulations, 8x RR on most percussion.
Smooth, phase-locked modwheel crossfading on all sustaining instruments means perfect crescendos and diminuendos.
Time Machine implementation on many instruments ("TM" in patch name) lets you adjust the tightness of staccati and pizzicati without sacrificing sound quality.
Rare instruments such as bass ophicleide, alto saxhorn, cornets, recorders, ethnic flutes from around the world.
Eight individually sampled triangles. Yeah, I said eight.
Reworked and remastered VS products- Marimba, Xylophone, Harpsichord, and Glockenspiel.
New! With 150 factory snapshots across 36 instruments, explore new sounds from familiar instruments- synthesized harpsichords, folk harps, Renaissance recorders, and more!