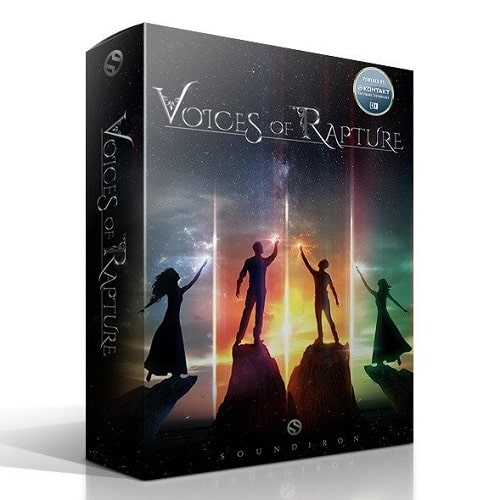 Voices Of Rapture v1.1 Kontakt Library
12.8 Gb
Voices Of Rapture is our premier operatic solo vocal collection for Kontakt Player (VST, AU, AAX), featuring 4 outstanding singers covering the classical soprano, alto, tenor and bass ranges. This complete solution includes fundamental chromatic articulations like true legato vowel sustains, single and multi-syllable staccatos and Latin chanting sustains, with individual solo and combined ensemble quartet presets. It also comes packed with thousands of beautifully dynamic live performance phrases in various keys and tempos, with your choice of Pure Vowel, French, Latin and even Humming and Whistling categories. The Phrase presets are equipped with real-time step-sequencing, tempo control, phrase editing and other control features for maximum flexibility and intuitive playability. You'll also find dozens of uniquely creative sound-designed atmospheric synths, drones and soundscapes that we've re-synthesized from these voices. They're perfect for underscoring, reinforcement and ambient arrangements. Along with our full FX rack panel, they offer you nearly endless creative possibilities.
Together with Nichole Dechaine (Soprano), Kindra Scharich (Alto), Brian Thorsett (Tenor) and Joseph Trumbo (Bass), we captured a grand total of nearly 50 hours in our studio and carefully distilled it into this extraordinarily playable virtual instrument library for the Kontakt Player and Komplete Kontrol platforms. With a clean and simple interface, pristine fidelity and excellent vocal performances, Voices Of Rapture is your new go-to for classical and cinematic lead vocal arrangements.
Chromatic Elements
True Legato Vowels: Ah and Oo core vowels for the ensemble, with additional options for some individual voices.
Vowel Sustains: Classic pure vowel sustains, covering Ah, Eh, Ee, Mm, Oh and Oo sounds in softer piano and stronger forte dynamics.
Latin "Poly-Sustains": 12 Poly-syllabic sustaining liturgical Latin words and short chants with speed control and simulated legato.
Vowel Staccatos: Classic pure short notes for Ah, Eh, Ee, Mm, Oh and Oo vowels in softer piano and stronger forte dynamics.
Latin "Poly-Staccatos": 23 Poly-syllabic short notes with round-robin, covering a wide variety of liturgical Latin words.
Whispers, Breaths and other vocal sound effects for added realism and expanded sound design possibilities.
425 Atmospheric pads, ambiences, drones, sonic textures and evolving soundscapes hand-crafted from the raw vocal source. From smooth and celestial to brutally gritty and sinister, you have a huge range of choices that are perfect for layering, underscoring, sound design and electronic and hybrid music production.
Live Performance Phrase Elements
A huge variety of over 3,200 natural melodic and dynamic passages in a variety of categories, tempos and root keys.
Pure Vowel Phrases for Soprano, Alto, Tenor and Bass
French Phrases for Soprano, Alto, Tenor and Bass
Latin Phrases for Soprano, Alto, Tenor and Bass
Whistled Phrases for Soprano, Alto & Bass
Hummed Phrases for Tenor & Bass
User Interface
Powerful Custom User Interface with CC and host automation support for all major DAWs and Komplete Kontrol hardware and software.
Main performance parameters include features like Swell, Attack, Offset, Release, Legato, Vibrato, Auto-Panning, Phrase Cross-fading, Pitch Shifting, Tempo-Sync/Time-Stretch, Unused sample purging, Articulation Key-Switching and Pitch Shift key-switching.
Ensemble presets include a mixer panel with separate solo/mute, volume, pan and key range controls for each vocalist.
Our FX Rack comes equipped with 18 powerful effect modules, each with configurable controls and customizable routing and chain saving/loading.
119 integrated custom convolution IR samples in 10 distinct categories (Cathedral, Chamber, Large Room, Small Room, Hallways, Underground, Outdoors, Long FX and Short FX)
Product Specs
Product Version 1.0
17,310 Samples
13 GB installed (17+ GB wav source)
61 nki Kontakt instrument presets
24 bit / 48kHz losslessly compressed NCW samples
Works with the Kontakt (version 5.6.8+)
Links
Demo Preview: