Zero-G Ethera Gold Kontakt Library
Size 15.9 Gb
Ethera Gold is an amazing all-new, powerful set of instruments. The perfect new tool for creating soundtracks, cinematic music, epic music trailers and any music requiring fantastic solo vocals and powerful, inspirational, hybrid wavetable synth sounds. All the samples included in this library are completely new and unique to this instrument. The vocal instruments included with Ethera Gold use the magnificent vocals of Clara Sorace. Clara has sung with many of the greatest soundtrack and video games composers. Her voice is a thrilling blend of soul, cinematic, epic and emotionality with the charm of latin flair. For the two Hybrid Synths we have sampled many hundreds of organic sources, acoustic instruments, and hardware synths.
Ethera Gold includes a collection of awesome vocals, hybrid instruments, epic hits, bass synths, organic sounds, violin textures, tribal percussion, hybrid brass, drum loops and much more. In fact, it's all you need to create the perfect soundtrack!
Ethera Gold augments Zero-G's Ethera Series with 6 brand new multi-sampled Kontakt instruments:
Ethera Gold Core Synth is a powerful wavetable Synth, containing a variety of instrument types including Bass, Horns, Braams, Hybrid Brass, Strings Textures, Synth, Organic Sounds, Rises, Trailer Hits, Percussion, Drum Loops, etc. It has 3 different audio engines for 3 instrument layers.
Ethera Gold Action Synth is a 3 Layer loop-based wavetable Synth containing a variety of arpeggiators, sequences, drumloops, percussion loops and organic loops. Synced to the BPM of your DAW it is the perfect instrument to create great hybrid soundtracks.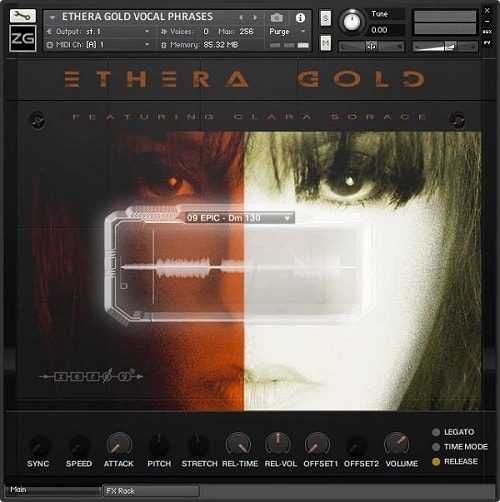 Ethera Gold True Legato is an instrument that utilises playback 'true legato' intervals when playing connected (legato) notes for every interval up to an octave in either direction and sustain layers that playback when not playing in legato mode. This new Epic True Legato is based on the Clara's powerful Epic Vocal. We have sampled each interval chromatically. There are no artificial pitching effects only a genuine human voice for up 3.5 octaves of actual vocal range. Every interval contains up to 3 sample articulations which you can control by Midi-Velocity. There is also a Scripted Legato Instrument with 4 additional articulations.
Ethera Gold Vocal Phrases is an instrument that plays back real vocal improvisations . The authentic "soul" of the singer. It contains over 1300 phrases in different styles, keys and BPM. Using the powerful Kontakt Engine, you can change the original BPM using the Time Mode function.
Ethera Gold Sustains contains polyphonic, single, long syllable vocal notes that are useful for creating vocal textures or backing vocals.
Ethera Gold Builder contains polyphonic single-shot syllable vocal samples that are useful for creating vocal arps or short vocal sequences.
Ethera Gold includes:
7 multi-sampled Kontakt Instruments
Over 16GB of 24 bit, 48KHz samples.
Over 6000 Original Cinematic Samples
The Brand New Epic Vocal True Legato – 1.6Gb of multi-sampled and chromatic vocal true legato (no artificial pitching – Real Vocal Range from G3 to A5, synthetically extended range from A5 to C6) – up to 3 articulations controlled by Midi-Velocity and 4 RR Sustains.
Custom Convolution Reverb
Over 1300 inspiring vocal phrases (2 GB of samples) organised by Key – Style- BPM – delivered also in open wav format so you can easily drag & drop them into your DAW.
2 Hybrid Synths with new Audio Engine based on 3 powerful Synth Engines
Over 12GB of samples from Hardware Synths, Acoustic Instruments (Violins, Guitar, Winds etc) and many other organic sources.
Glide & Unison Mode
Arpeggiator
11 LFO, 1 MIDI Assignable Table Modulator
FX Rack
Wavetable Synth with Sample Grain and Real-Time Time Stretching
Over 1GB of Drum Loops
Over 500 Snapshot Presets
ROLI Seaboard special patches
Requires full version of Kontakt 6 or higher. It will not work with the free Kontakt Player.
Links
Demo Preview: